Best Time Tracking Apps for Freelancers and Teams
2020 changed the job landscape forever. Work-from-home (WFH) was once the realm of freelancers, however, the workforce had to pivot in order to remain productive. As a result, many of us found we preferred a more balanced home/office schedule, incorporating a split between the two. But how do we track productivity now – with the fridge, TV, and kids all within arms reach? Are we really working at our optimum without the routine of office life? Do we still understand capacity, client management, and workflow? There is an elegant solution to staying on top of your workday – time tracking tools.
Benefits of Time Tracking Tools
Freelance time tracking apps and project management systems can take your business to the next level by assigning tasks, setting deadlines, and enhancing productivity. Think how efficient it would be to:
Accurately capture work hours
Encourage motivation and discipline
Centralise billable and non-billable hours
Simplify online invoicing or payroll requirements
Provide detailed analytics and reporting
10 Top Time Tracking Tools
There is a variety of time tracking software options available, but some freelancers or project managers find it helpful to use both project-based and task-based time tracking software. Those who bill by the hour will especially benefit from having accurate records of their work hours. It's a very personal choice.
With over 5 million users, Toggl Track's success has much to do with it's clean design and intuitive UI. Specialising in effortless time tracking and reporting, Toggl Track data offers clarity around profit margins, insight into time spent and convenient multi-platform sync up between phone, tablet, desktop etc. It's ease of use will enhance understanding into how profitable your freelance or team projects are.
Features
Time Tracking Across All Devices
Pomodoro Timer, Idle Detection and Tracking Reminders
Summary, Detailed and Weekly Reports with PDF and CSV Exports
Schedule Reports to Email
Time Audits
Project Templates
Integrates with 100+ Apps Including Asana, Bitbucket, Basecamp, Xero
Pricing
Free: up to 5 users
Starter: $9 user/month
Premium: $18 user/month
Enterprise: Custom with unlimited users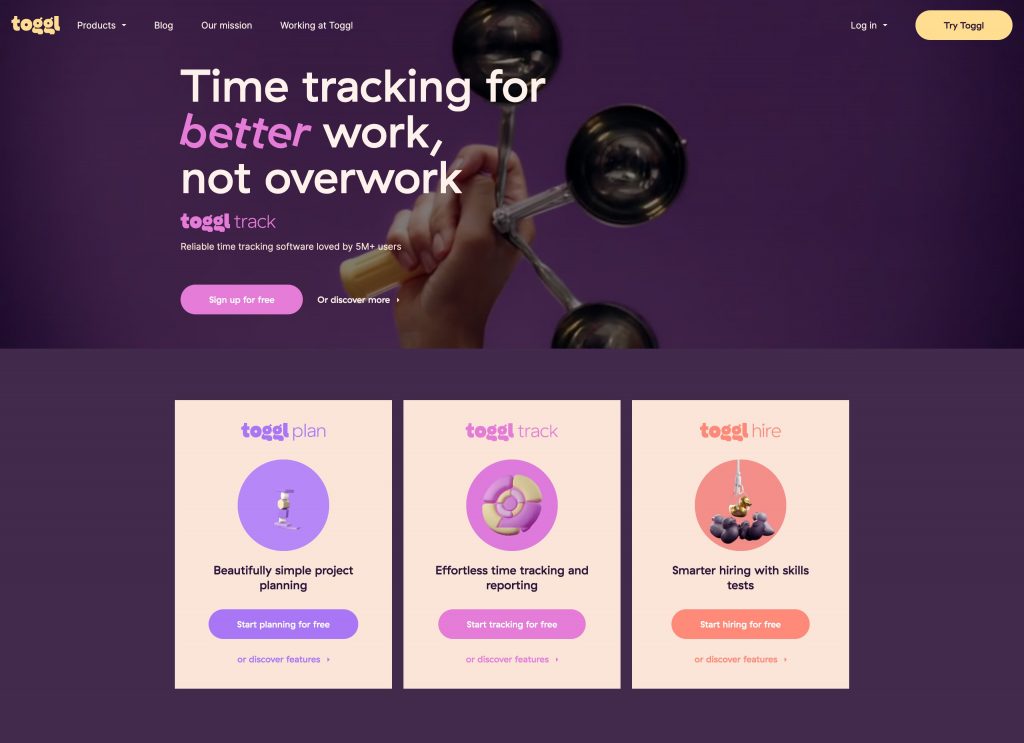 Everhour is a powerful time tracking software that helps you manage projects, collaborate better with your team, and boost productivity. With Everhour, you can create detailed reports from your current collaboration and project management apps, including Asana, Trello, Basecamp, Jira, ClickUp, and GitHub. Know where your time is going, get rich insights into how you spend the day and keep projects on budget, all from our easy-to-use interface.
Features
Track Time Spent On Projects, Hours Of Work, Vacations, Or Sick Days
Seamless Integrations with Asana, Basecamp, Jira, Trello, GitHub, ClickUp plus more
Timer or Manual Entry
iPhone app
Reminders and Notifications about Long-Running Times
Estimates for Forecasting Projects
Pricing
Simple All-In-One Pricing
$8.50 USD per user/month starting at 5 users
Unlimited users
Unlimited projects
Everhour: Start with no commitment. Try everything. Subscribe if you love it.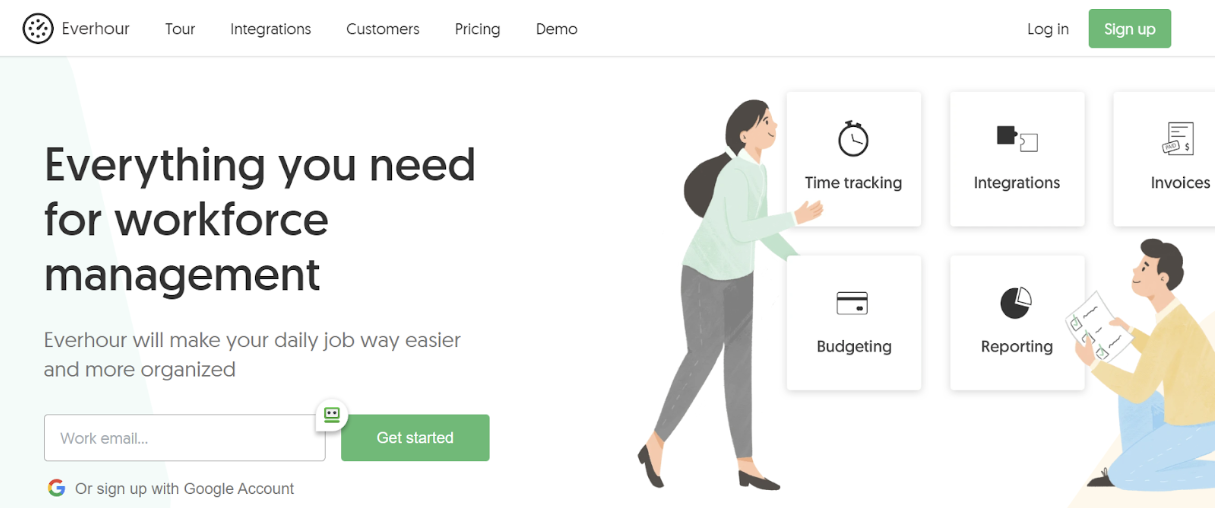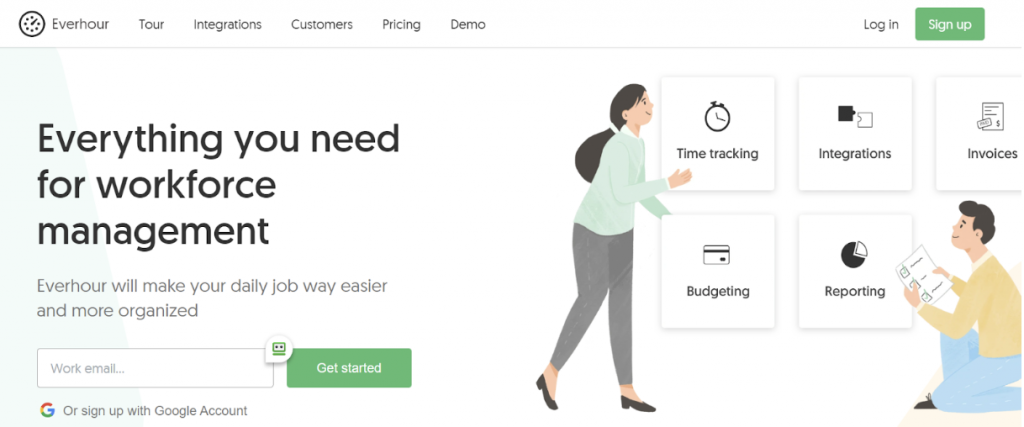 DeskTime is the ultimate all-in-one automatic time tracker and team management system, designed to help you boost productivity by 30% or more. The best time tracking software on the market, it's easy to use and gives you detailed insights into where staff time is spent.
Features
Document Title Tracking
Automatic Time Tracking
Pomodoro Timer
Private Time Option
Invoicing
Custom Reports
Mobile App
Pricing
Lite: Free for 1 user only
Pro: $7 user/month
Premium: $10 user/month
Enterprise: $20 user/month
DeskTime: The best value for money all-in-one time management tool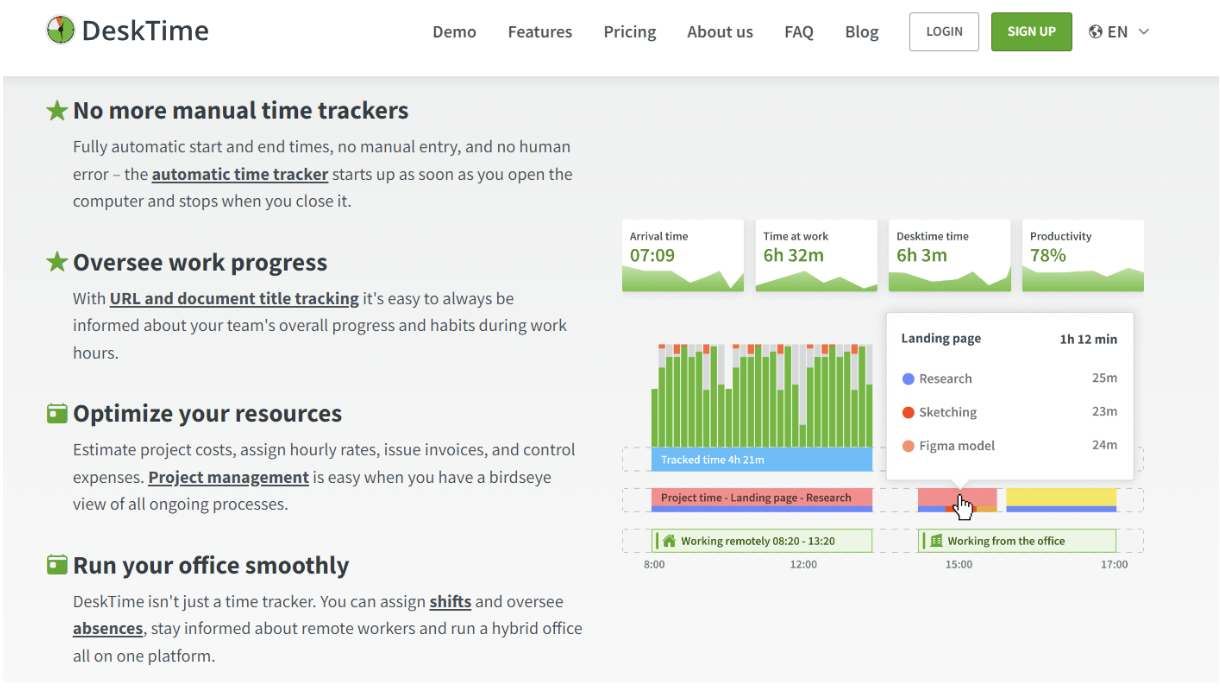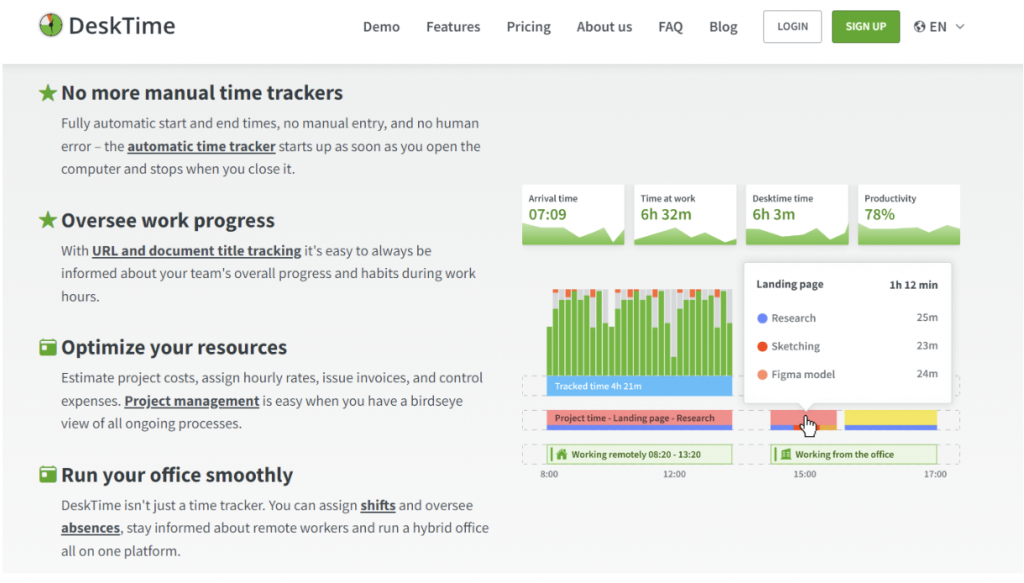 Harvest time tracking software answers the most fundamental business questions: Where am I spending my time? What's the true cost of a project? Am I making a profit? Make project management simple by tracking data to predict when a task will be delivered, how much it will cost and whether it's time efficient. Then easily translate that information into professional invoices and email them to clients, expediting payment turnaround. Harvest analyses time tracking and provides key answers to run your business more effectively.
Features
Estimate Project Timelines and Budget
Track Time to Specific Clients or Projects
Identify Employee Burnout
Automatic Invoice Generation from Time Tracking
Forecast Future Schedules
Integrations include Asana, Basecamp, Trello, Quickbooks, PayPal
Pricing
30-Day Free Trial
Free Plan: for individuals, limited to 1 seat and 2 active projects.
One Plan: $12 USD user/month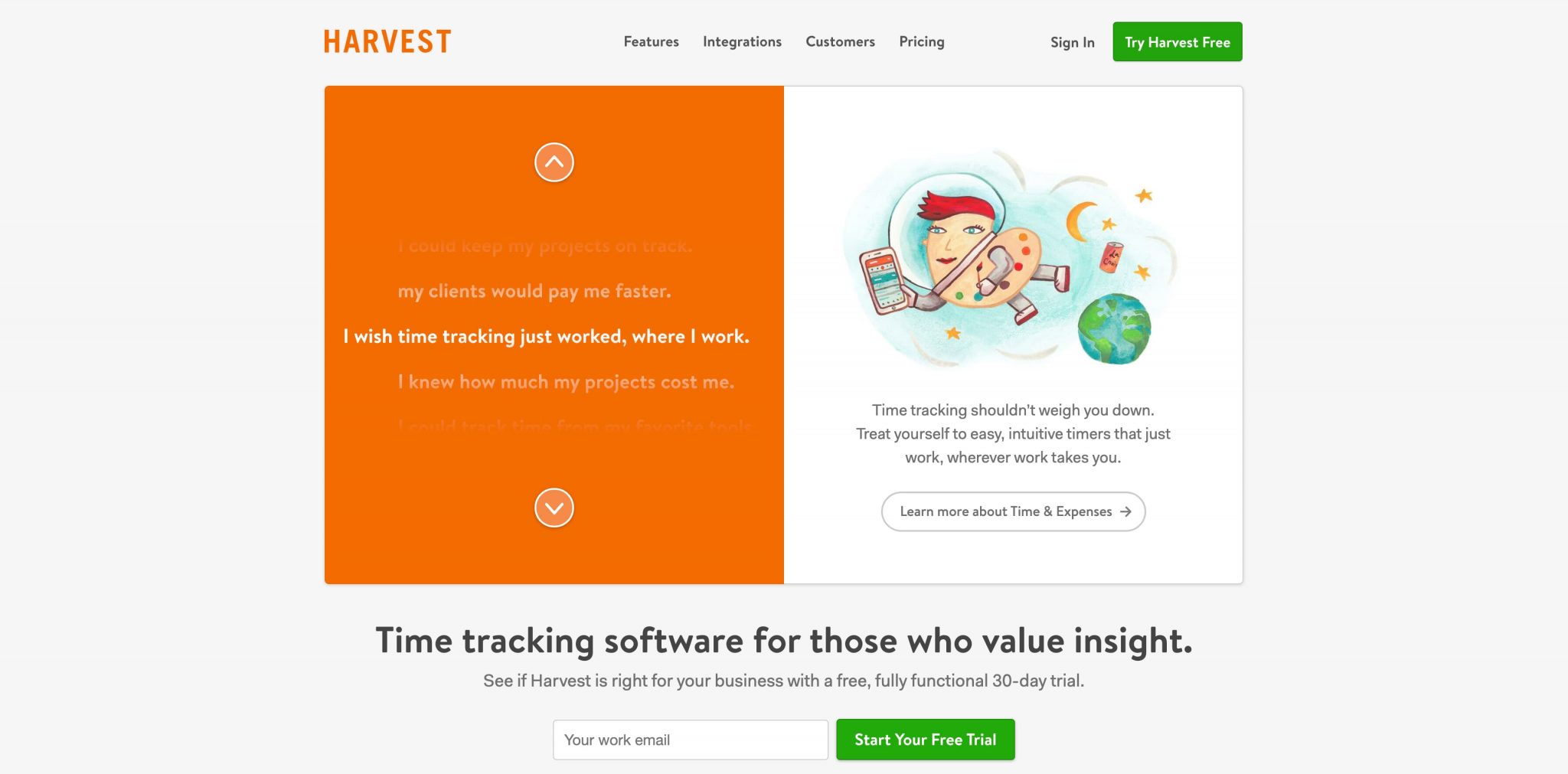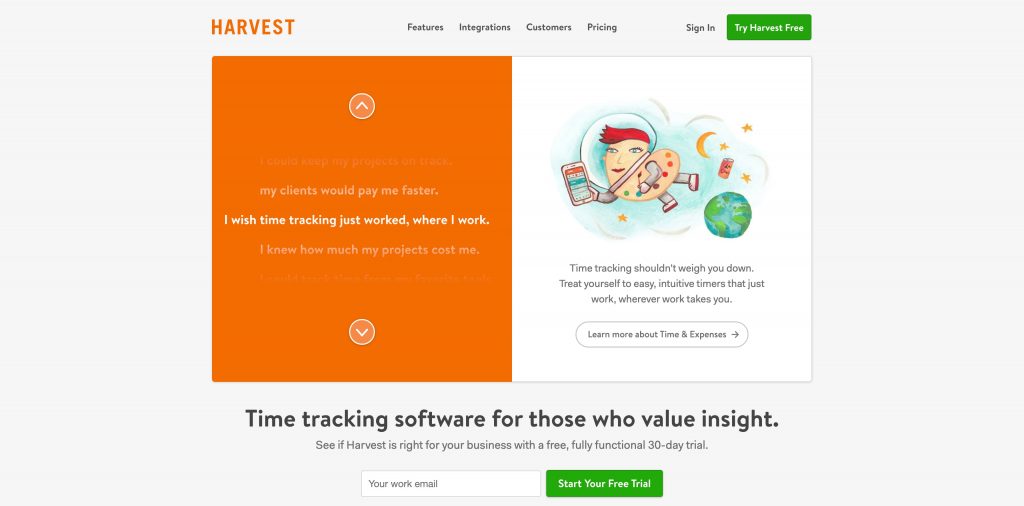 Tick believes time is inventory, so if you lose track of your stock, you lose money. Time versus Budget is their focus, enabling you to shift more inventory resulting in more profits. With real-time budget tracking, Tick updates your project budgets with each time submission allowing you to stay on top of costs and resources. Detailed reporting provides both you and your client insight into projects. Continuous feedback facilitates time management for freelancers or team environments. Tick puts the management in time management software.
Features
Access via iOS, Android, Apple Watch, Desktop
Run More Successful Projects with Granular Reporting
In-App Timers Keep You Task Oriented
Instant Feedback from Timecard
Enter Time From Anywhere
Integrates with 750+ apps Including Asana, Basecamp, QuickBooks, Trello
Pricing
Free: 1 project
10 Projects: $19 per/month
30 Projects: $49 per/month
60 Projects: $79 per/month
Unlimited Projects: $149 per/month
Time Tracking Software – Run More Profitable Projects – Tick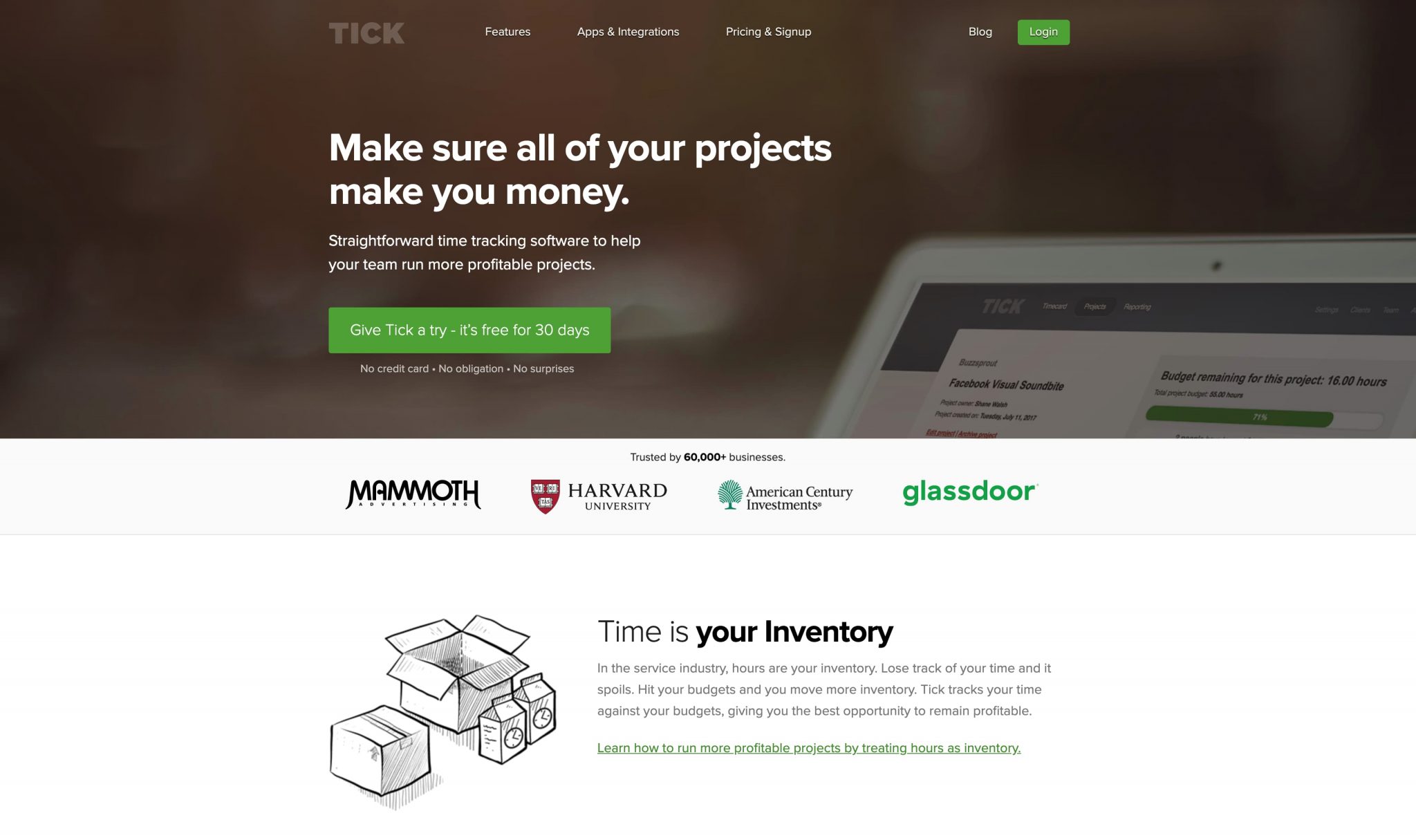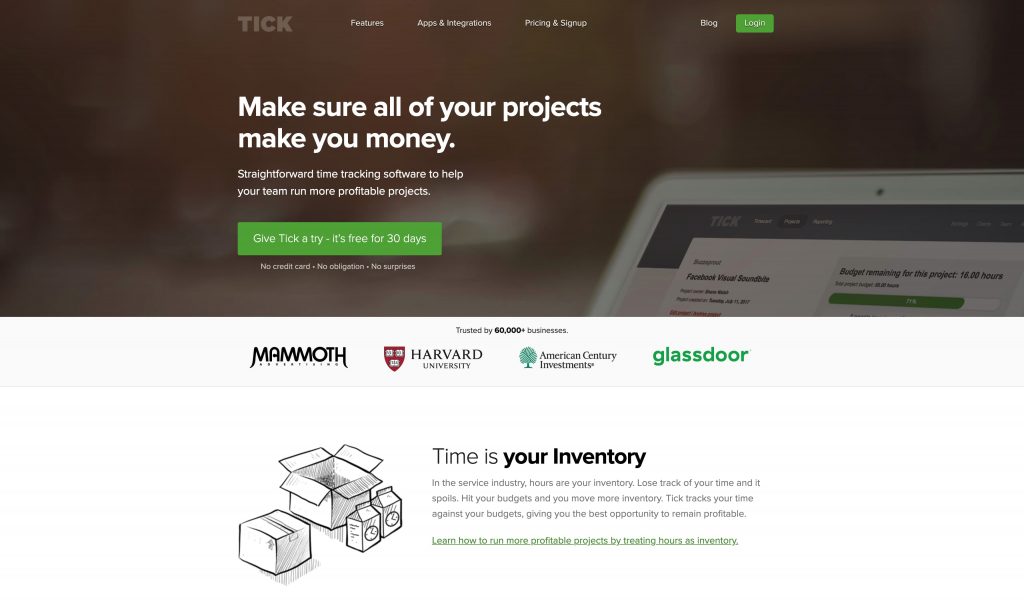 TimeCamp's focus is team management without micromanagement. Considering the shift towards remote working TimeCamp's time tracker works for attendance reporting, resource management as well as identifying the use of all apps used by your team. It keeps track of budgets, measures profitability of projects and turns data into precise client invoices minimising disputes and maximising payments. TimeCamp is one app with many features.
Features
Automatic Domain Names Scans
Identifies Percentage of Time Spent on Work-Related Apps
Measures Project Profitability
Budget Tracker
Billing Feature Distinguishes Between Billable and Non-Billable
Simple Integration with 100+ Apps: Slack, Trello, Asana, Jira, Todoist
Pricing
Solo: Free
Basic: $5.25 user/month
Pro: $7.50 user/month
Enterprise: Custom pricing
Time Tracking Software – The Automated Time Tracker TimeCamp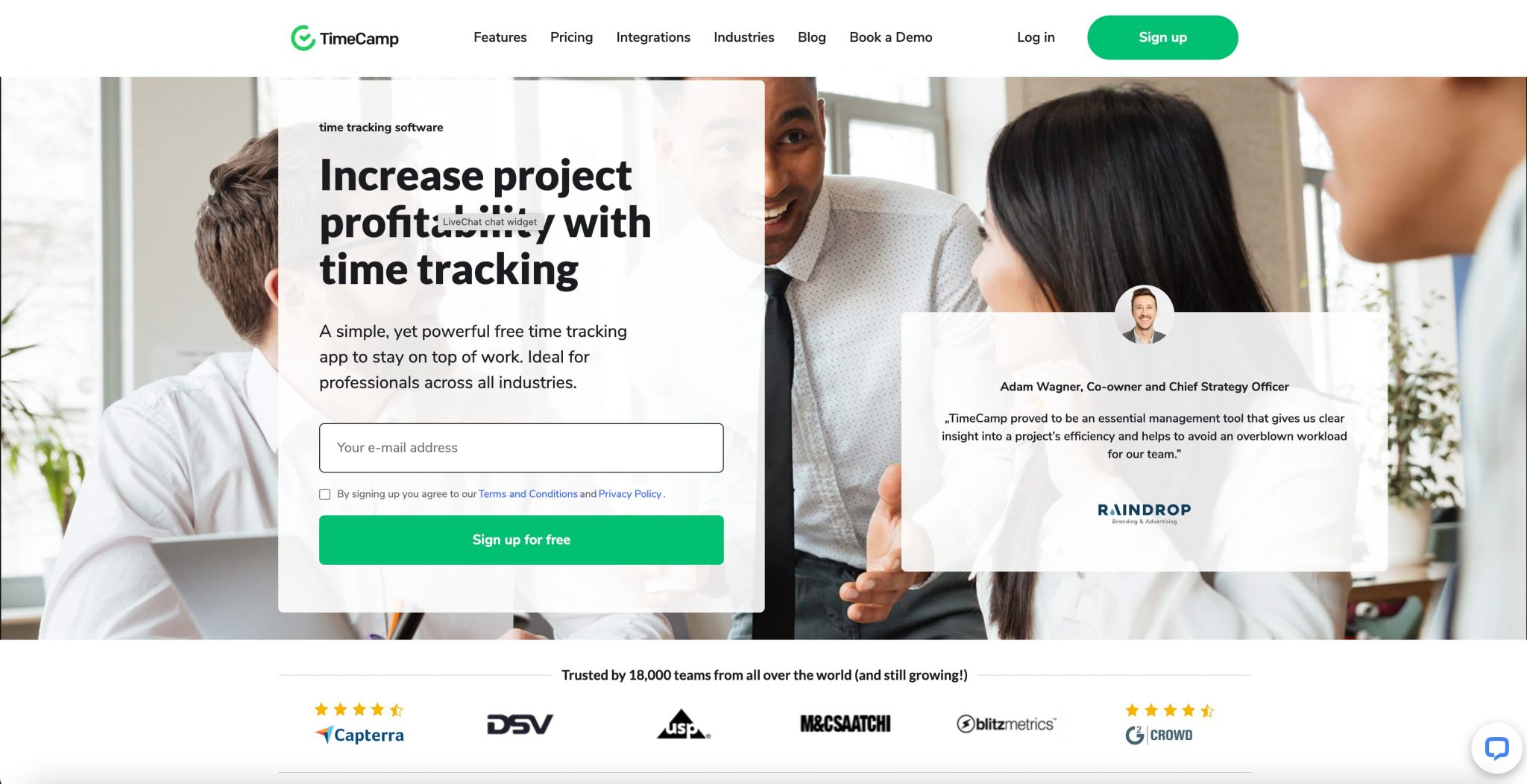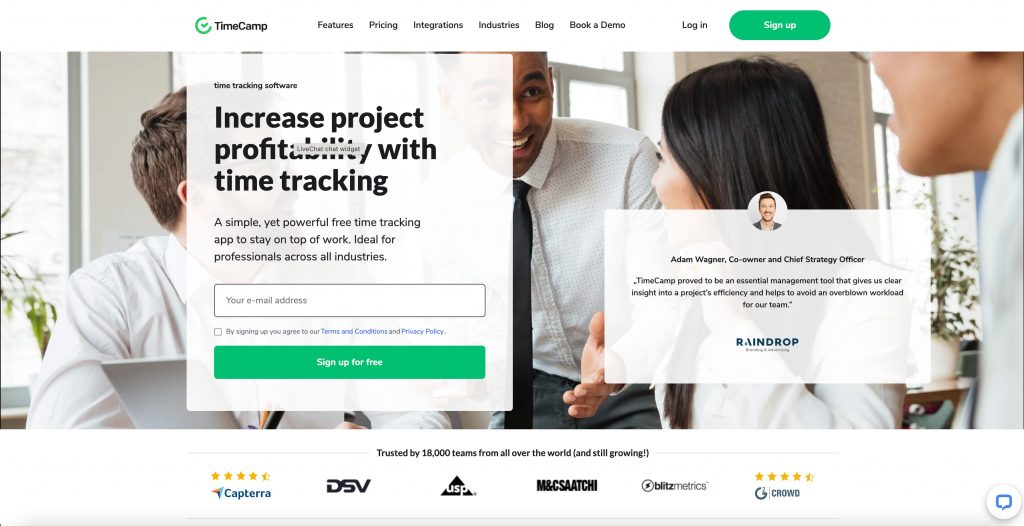 This time tracker software is a simple solution for tracking freelance work hours, generating reports and billing clients. Track work in real-time or add time logs manually to iPhone, Android or web timekeeper apps with a single click so at the end of the day you know exactly how you or your team spent their time and the clients money. Detailed and accurate time logs are easy to categorise, interpret and learn from. Leadership decisions benefit from My Hours with accurate time tracking data informing decisions about how to budget, assign work and invoice customers.
Features
Create Projects, Assign Tasks and Set Budgets
Simple Clock In/Clock Out with Mobile Apps
Apply Employee Hourly Rates
Approve Timesheets
Manage Employee Unplanned Absence
Download reports in PDF, Excel or CSV format
Personalise Invoices
Project Templates
Pricing
30-Day Free Trial
Free Plan: for new freelancers or teams
Pro: $6 user/month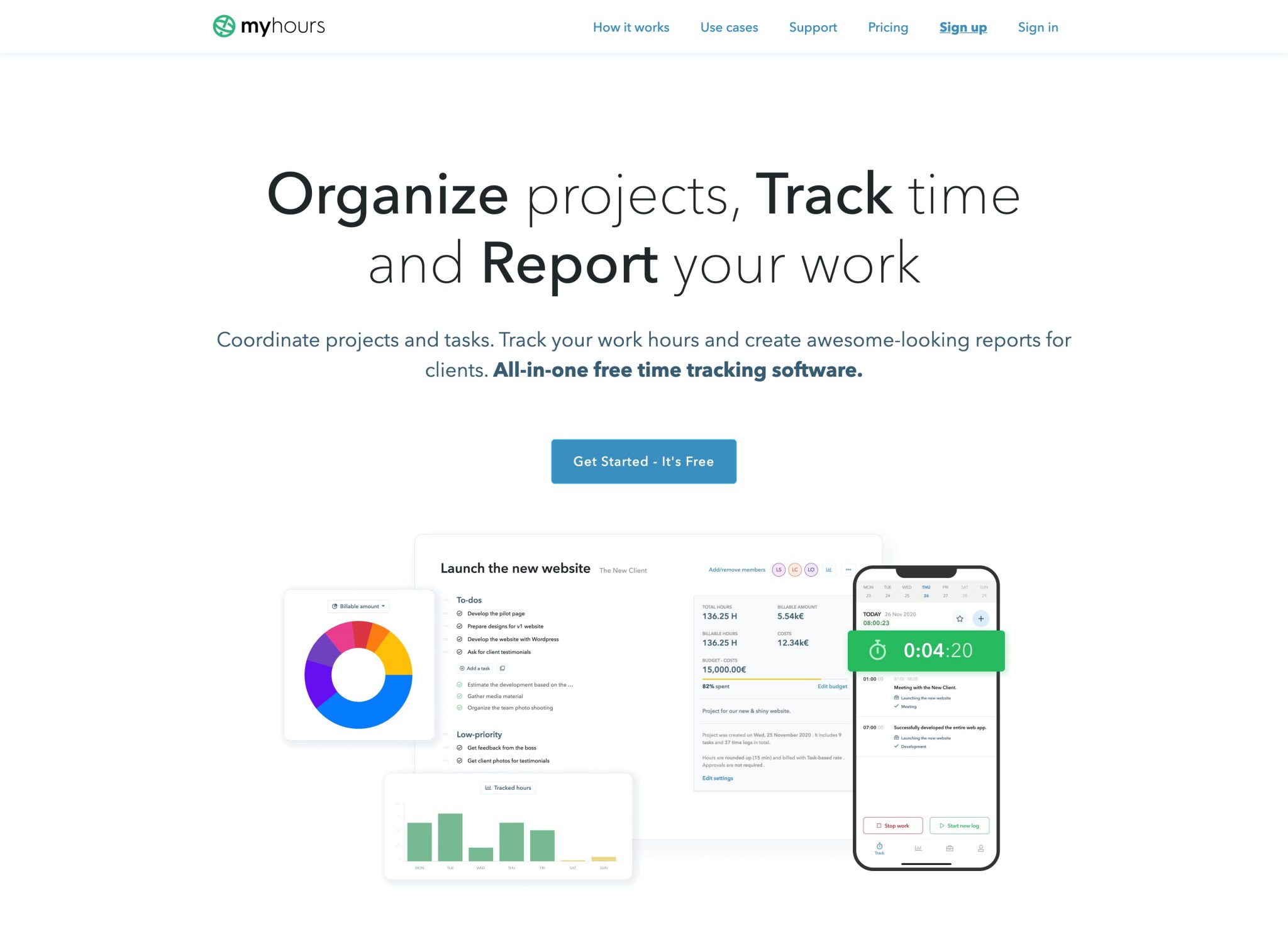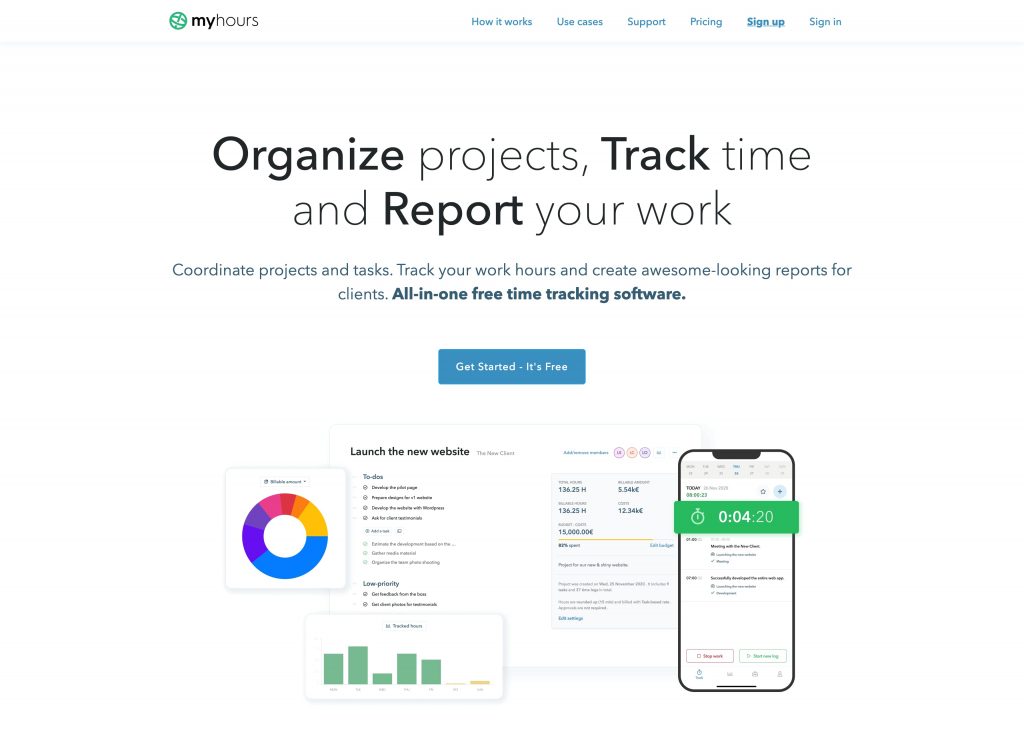 Time is money, therefore Time Doctor's reports diagnose and treat time-wasting habits to increase productivity. Clearly establish productivity throughout the day by monitoring web and app usage when clocked on. A screenshot feature can be enabled or disabled for each user when in work mode and can be deleted to maintain privacy. Receive alerts if the computer sits idle for too long during assigned hours. Time Doctor also creates daily and weekly summary reports making it easy to analyse patterns of time spent on each project, client and task. Discover more time with Time Doctor.
Features
Employee Monitoring with Distraction Alerts to Remain Focused
Summary Reports of Time Spent on Projects, Client and Task
Fully Customisable Payroll Supporting All Currencies
Intuitive Project Management
Time Sheet Review and Approval
Screenshots and Mouse/Keyboard Activity
Integrates with 60 Apps Including API, Jira, Monday, Salesforce, Slack, Zoho
Pricing
Free Trial
Basic: $7 user/month
Standard: $10 user/month
Premium: $20 user/month
Time Doctor: Smart


ActiTIME caters to freelancers looking for time tracking software within the Engineering, Design, Consulting, IT and Healthcare industries, however if you are looking to save hours, this freelance time management app will streamline timekeeping, task management, payroll and billing processes. You already have the data, so all you need to do is to create a new report or run one from their saved templates. With a simple and stylish UI, creating workflow, running reports or comparing estimates becomes manageable. Keep track of your business with the data you already possess.
Features
Monitor and Manage Time Effortlessly
Analyse Performance In-Depth
Organise Workloads In Line with Business Goals
Calculate Costs Based on Employee Rates
Prepare Payroll or Apply for R&D Tax Credit
Customise Reports and View as Charts, HTML Spreadsheets or CSV files
Integrates with Jira, GitHub, GitLab and Google Apps
Pricing
1-3 users: Free
1-40 users: $6 user/month
41-200 users: $5 user/month
200+ users: Fixed cost, unlimited users
actiTIME – Time Tracking Software for Boosting Your Business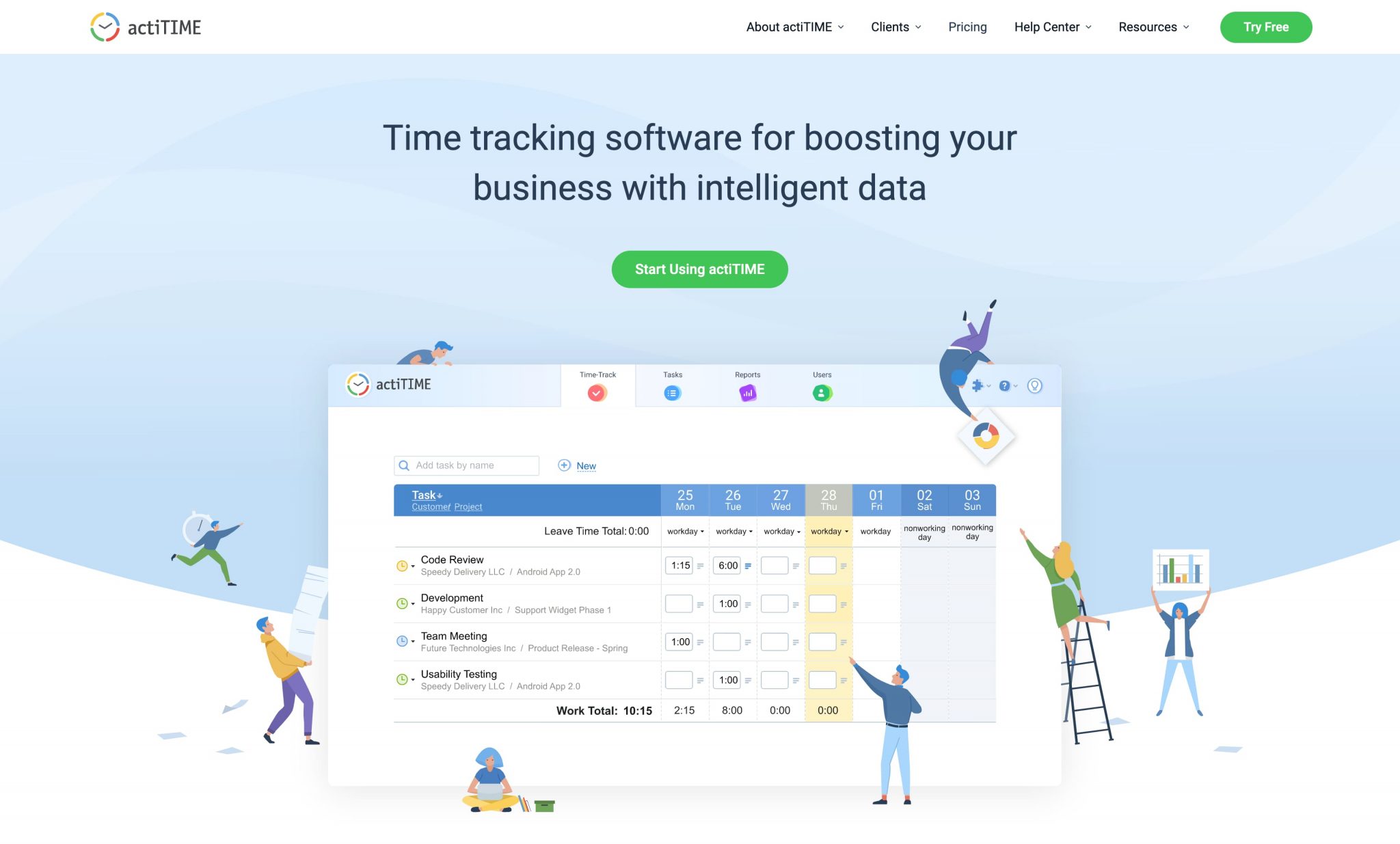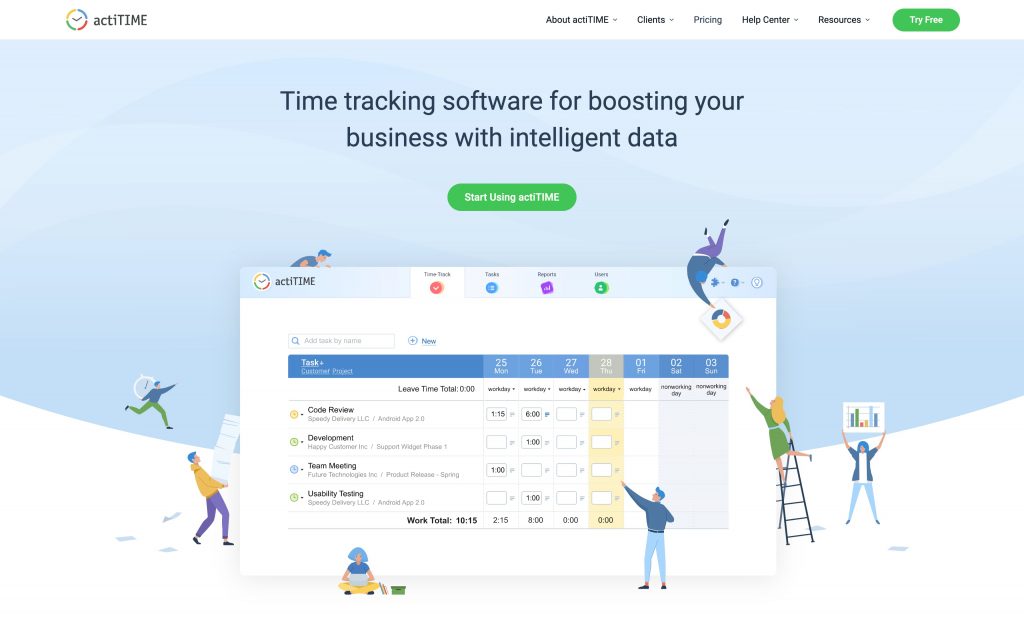 Chrometa caters to lawyers, accountants, architects and freelancers with a focus on maximising productivity and minimising administration costs. Automatically track time on to-do lists and tasks or manually complete timesheets inside the dashboard with just a few clicks. Get paid for every minute with no more inaccuracy or underbilling – whether emails, phone calls, meetings or documentation. Chrometa excels in performance metrics to refine budget and billing goals for your practice and your clients.
Features
Automatic Time Tracking on Any Device
Accurate Granular Billing
Integrate and Export Data
Monthly Product Updates as Teams Update Features
50+ Integrations Featuring Clio, PracticePanther, Cosmolex, Rocket Matter, Wave
Pricing
First 30-Days Free
Standard: $19 user/month
Plus: $29 user/month
Premium: $49 user/month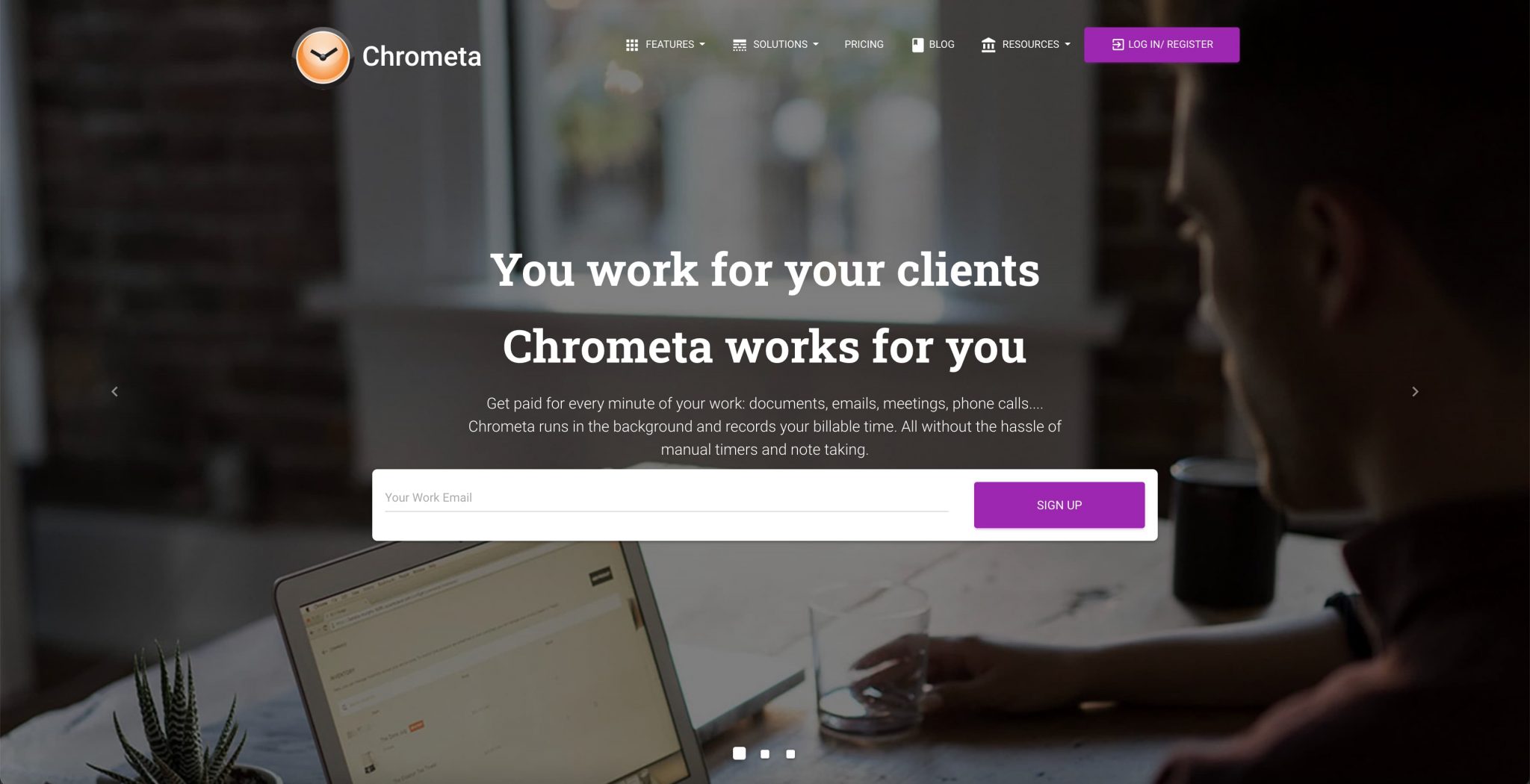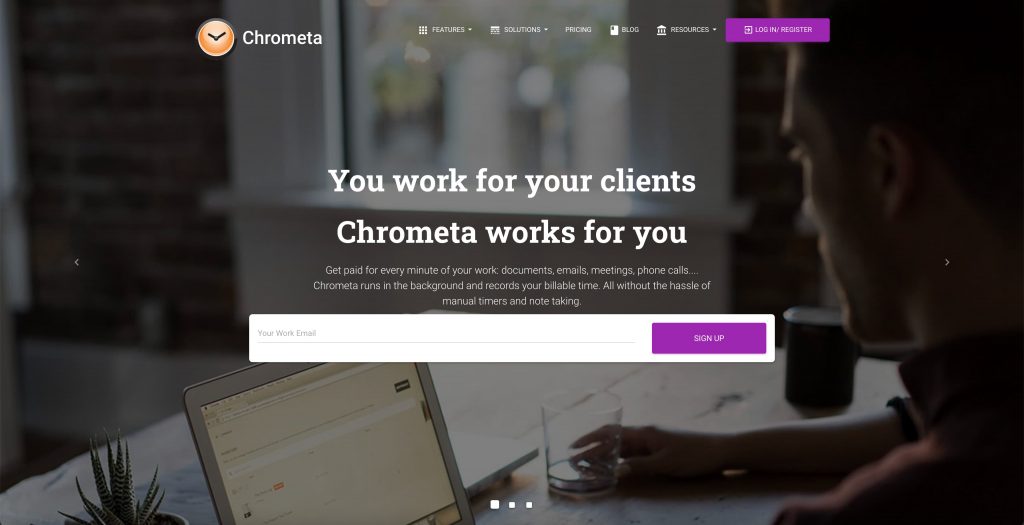 Time tracking is an insightful practice that can identify the difference between a day well spent or a day poorly managed, especially now that much of the workforce is remote. If productivity and profitability are priorities within your business, time tracking software will definitely up your game and identify shortfalls. The apps are designed to integrate with most platforms and with several offering 30-Day free trials it would be prudent to take them for a test drive. If there was ever a need for freelancers to work smarter, not harder, the time is now. Get tracking!