It is fundamental business sense for freelancers to track cash flow – money in versus money out – in order to understand the progress and profitability of any occupation. The prudent move is to consider accounting software: know exactly what your expenses are, how to reconcile accounts, invoice in multiple currencies, provide various online payment options and of course accurately bill clients.
Fortunately, there is a substantial number of free accounting software options in Australia for freelancers, entrepreneurs and small businesses. Some offer a single invoicing service that is job-specific, then you can add apps to expand the services. Others offer a Free 30-Day Trial for their broader suite of services. The benefit is that you can try a few on for size before you decide what best suits your business.
Take a look at some of the best free accounting software for freelancers:
Rounded is simple accounting software for people who are self-employed. It helps freelancers and sole traders keep track of their finances, send invoices, pay bills and file taxes in one place. The software is simple and easy to navigate, making it perfect for solopreneurs and freelancers who want to focus on their business instead of spending time navigating complex software.
Features
User-Friendly Interface
Streamlined Invoicing
Hassle-Free Expense Tracking
Secure Payment Processing
FREE 14-Day Trial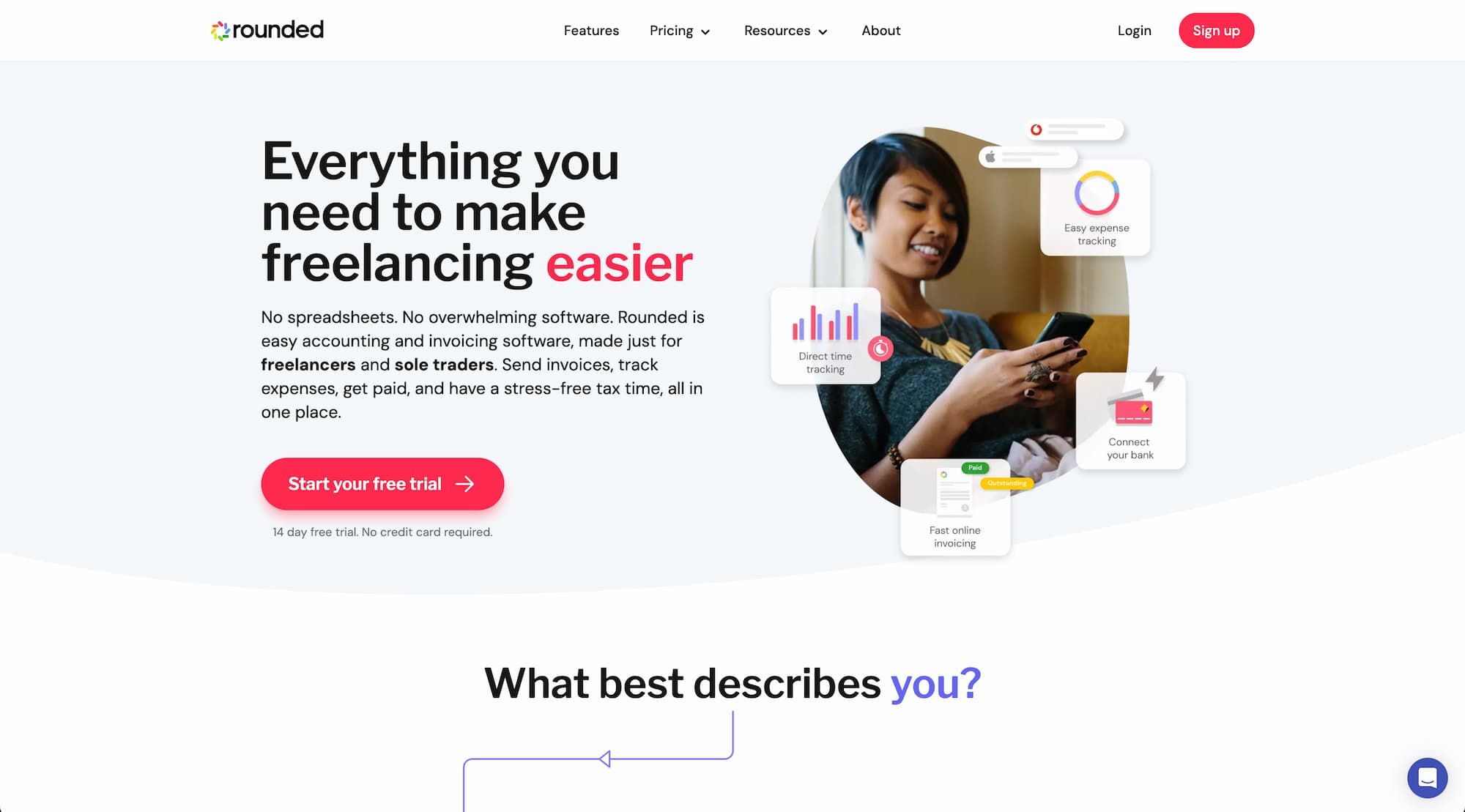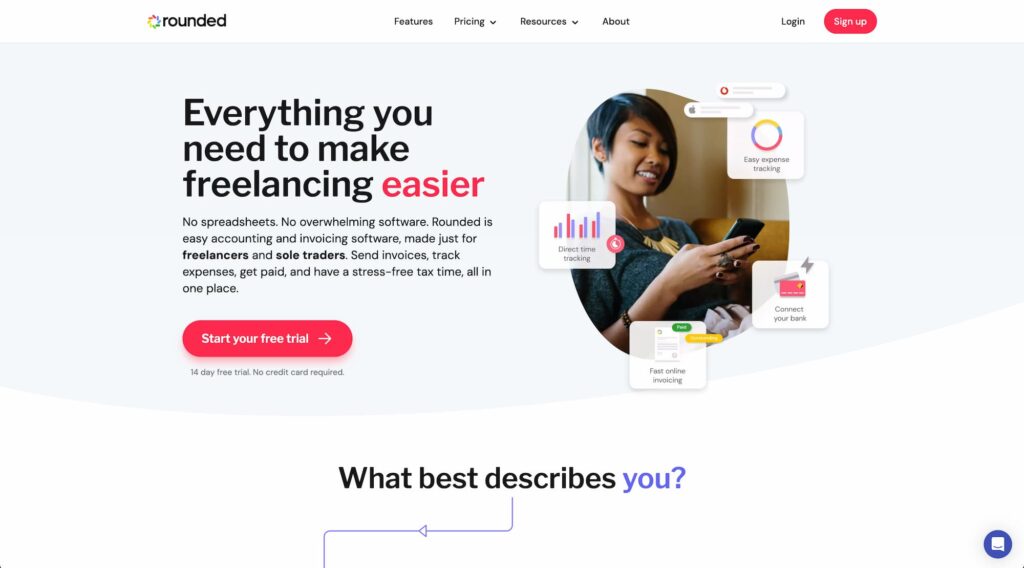 ZipBooks claim their accounting software makes you smarter. That's got to be worth a look, right? Their invoice and billing systems are fully automated, featuring a convenient set-and-forget option. The accounting component boasts "dead-simple reconciliation" and their reporting dashboard identifies profitable clients, where the dead-weight lies and even insights into your competitors. If bookkeeping isn't your strength ZipBooks has got your number.
Features
Dead-Simple Accounting
One-Time Recurring Billing (promoting prompt payments)
Intelligent Reports Focus Performance
Automated Expense Tracking
FREE Starter Kit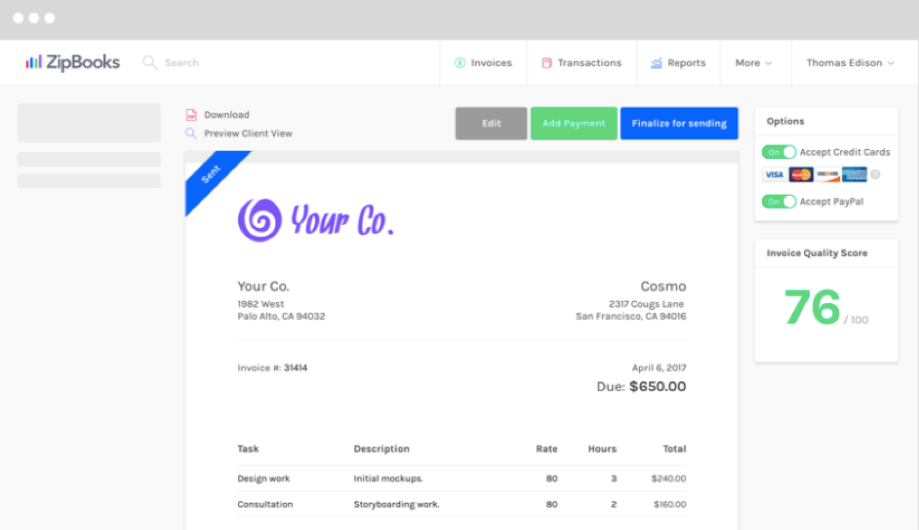 SlickPie offers a spectrum of accounting software needs free, for freelancers and/or small businesses. Its simplicity takes the frustration out of expense management providing a seamless transition between invoicing and payment. And if streamlining your expenses is a priority, let their MagicBot automate information from your receipts and convert it into digital data. Slice me some SlickPie.
Features
MagicBot – Automated Receipt Data entry
Online Invoices Issued
Multi-Currencies, PayPal, Stripe and Credit Card Processing
Creates Quotes and Estimates, Tracks Expense and Sales Tax
Bank Transactions Reconciled
Late Payment Reminders
FREE Kick-starter plan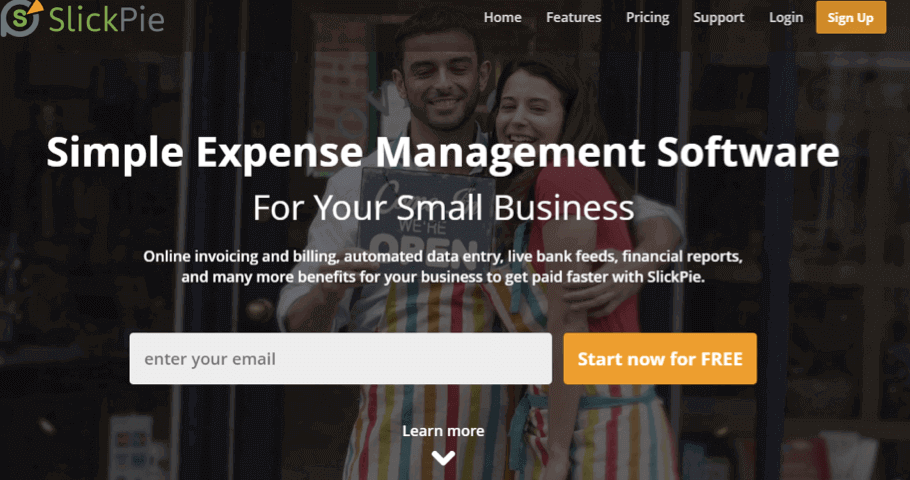 Wave offers free accounting software for freelancers with no trials, catches or limits. Their suite of products works together so that tracking income or expenses intuitively creates professional invoices, promoting swift payments. Wave also creates powerful reports around overdue invoices, bills, cash flow, profit and loss statements, etc. Always wanted to farewell paper receipts? With their free mobile app, camera capture scans receipts and completes relevant data.
Features
Unlimited Income, Sale Tax and Expense tracking
Add Unlimited Partners, Collaborators or Accountants
Invoice in Any Currency and Accepts Credit Cards for Auto Payments
Generates Estimates and Converts to Invoices Upon Approval
Personalise Invoices from Professional Templates
Receipt Scanning via Free Mobile App with Camera Phone
FREE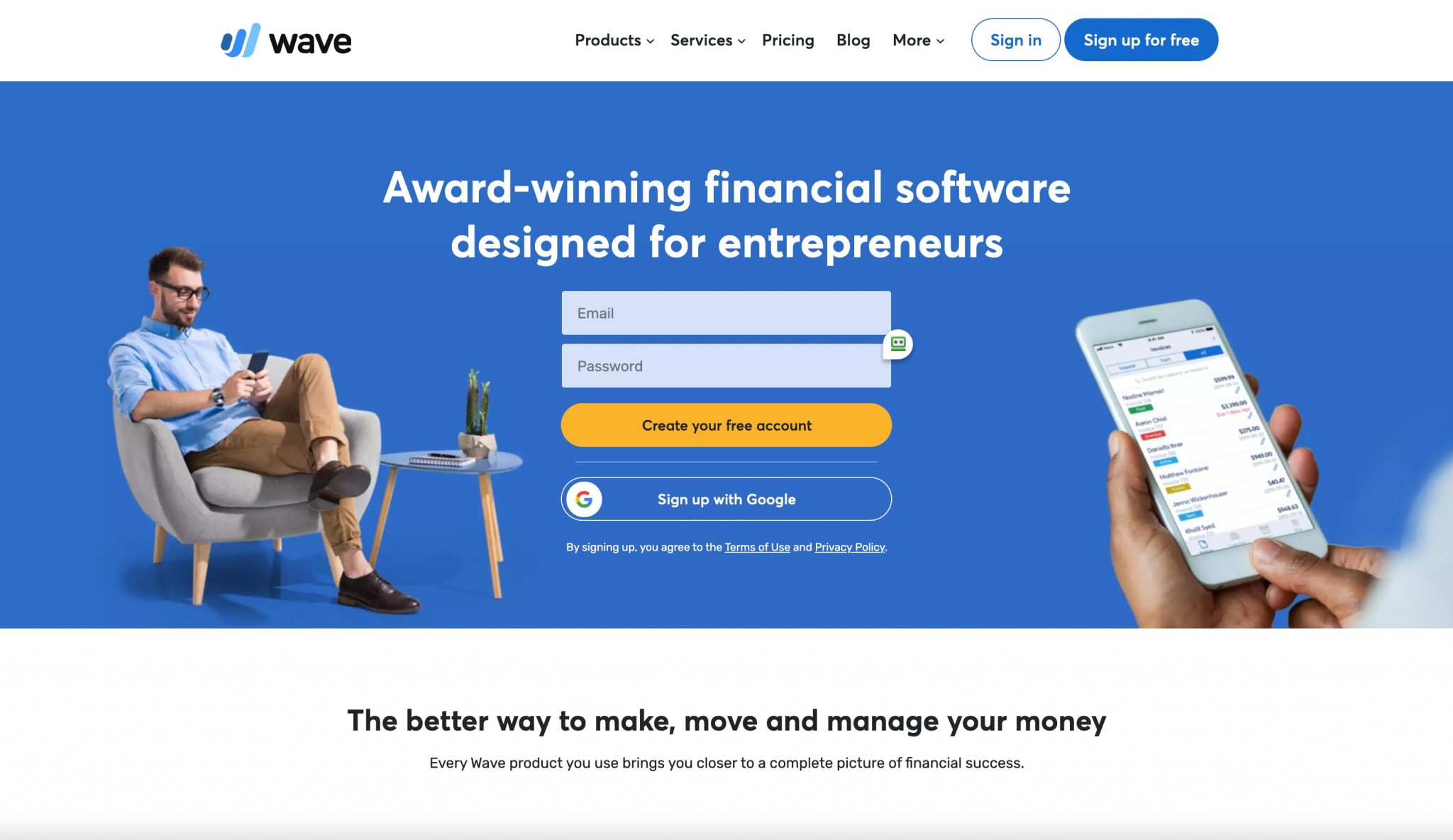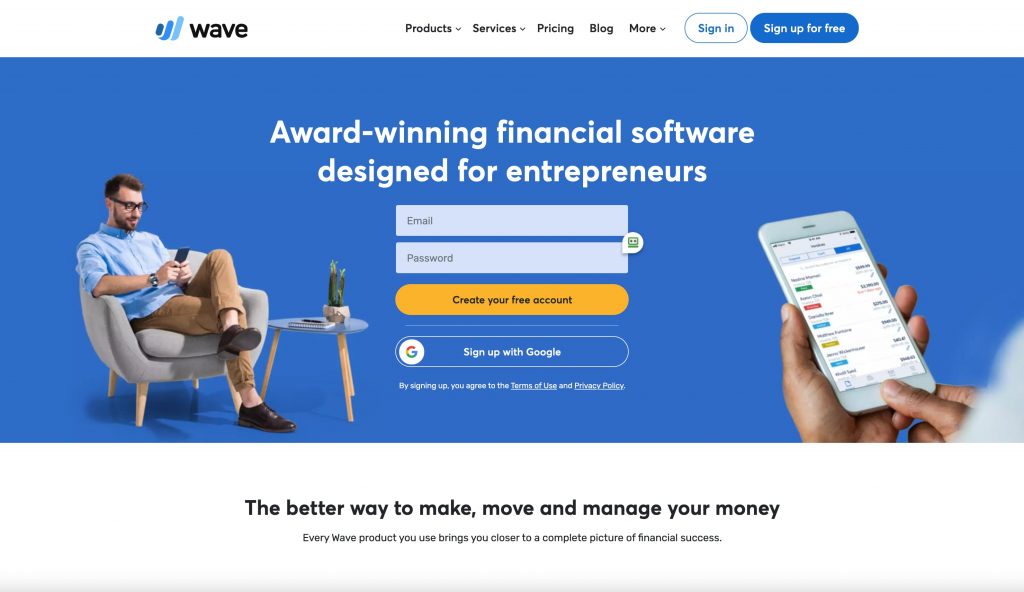 Brightbook presents a brighter side to freelance accounting software. As soon as you login, you have a clear overview of your current business picture: from what you owe, to who owes you and where your cash flow stands. Bookkeeping becomes less time-consuming, more efficient and completely professional, helping you focus on what's most important – getting paid.
Features
Email Professional Invoices Including Quotes (in any currency)
Dashboard Snapshots Cash Flow – Money In v Money Out
Quick Visual on Scanned Receipts and Supplier Bills
Multiple Company Accounts with a Single Login
Track and Reconcile Cash Flow Against Bank Statements
FREE service for everyone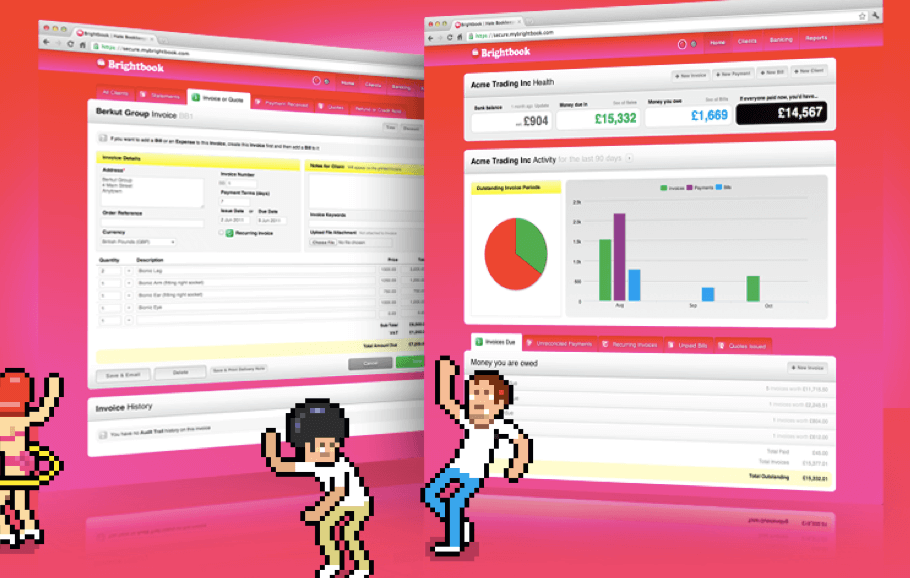 GnuCash is financial accounting software for freelancers and small businesses, freely licensed under the GNU General Public Licence and available for GNU/Linux, BSD, Solaris, Mac OS X and Microsoft Windows. Powerful, flexible, quick and intuitive, GnuCash is based on professional accounting principles with a check-book style register, allowing you to track bank accounts, stocks, income and expenses. Its primary focus is accuracy because it's so easy to operate.
Features
Double-Entry Accounting
Stock/Bond/Mutual Fund Accounts
Graphic Style Reports
QIF/OFX/HBCI Import, Transaction Matching
Scheduled Transactions
Financial Calculations
FREE

Cloud Books invoicing software is designed for freelancers to create, customise and send professional invoices in less than 30 seconds! Their suite also features other integral tools such as project management, time tracking, automatic payment reminders and expense reports.
Features
Professional Business Branding
Client Billing Details at A Glance
Centralised Client Management Features
Online Payment via PayPal, Stripe and Other Payment Gateway Integration
Required Fields for Tax Claims (so you don't miss it)
FREE 30-Day Trial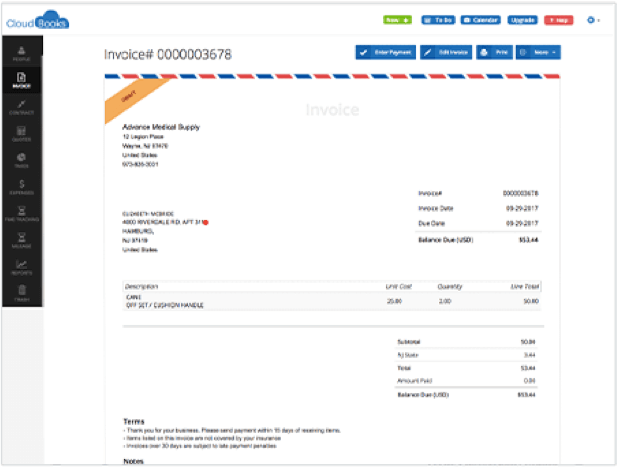 INV24 are acutely aware that a business can slip from profitable to unprofitable without even being aware of the transition. Therefore entrepreneurs must have a clear understanding of income and expenses for successful business planning. For freelancers, accounting software helps gain an overview of what is happening over time with respect to quality, quantity and profitability of their hard work.
Features
Invoicing Date Stored on Servers and is Accessible from any Device
Servers Prevent the Necessity for Disk Space on Computers
Computer Crashes Do Not Prevent Alternate Devices Accessing Server
Simple Invoicing is Instinctive and Requires Minimal Training
Intuitive Interface and Prompts Help Master the System
FREE for invoicing

Collaboration is key when it comes to Xero's secure online accounting software. Appealing to the remote working freelancer or team you can track the money coming in and going out on a daily basis wherever you are, with easy-to-read charts showing up-to-date figures. Xero also does the leg-work when it comes to outstanding invoices with automated payment reminders. Freelancers can start simple then add apps to build a complete business solution.
Features
Accurate Records Categorise Bank Transactions and Cash Flow
Online Invoicing with Online Payment Options
Track Inventory, Manage Stock and Add Items to Orders
Payroll Software Pays Staff, Send Payslips and Run Reports
Daily Bank Reconciliation
Pay bills On-Time and Reduce AdminTime
FREE 30-Day Trial
Accounting Software | Making Single Touch Payroll Easy | Xero AU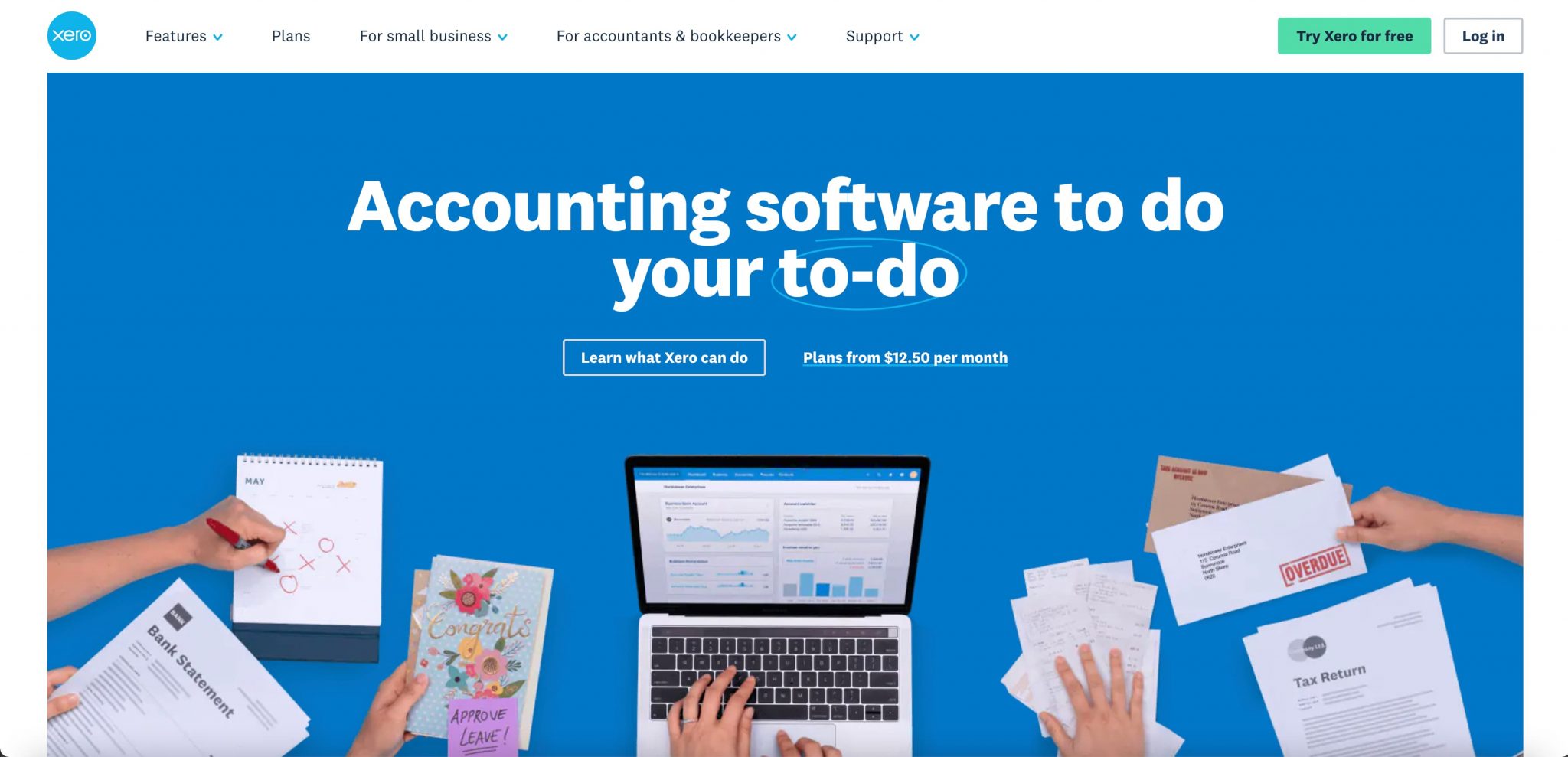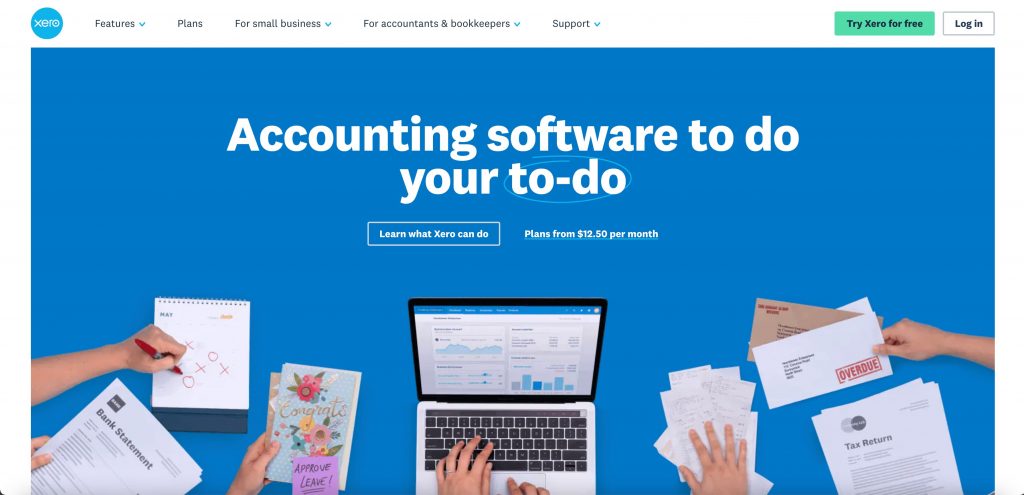 Everyone has to start somewhere and if you are new to the gig economy there will be so many aspects to running your business right now, you may feel overwhelmed. Free accounting software is a gentle transition into a potentially complex and time-consuming process. Take advantage of the companies who offer FREE 30-Day Trials so as you become familiar with the services available. You will notice some companies host a variety of accounting options while others are goal specific. Initially, you may choose something streamlined and simple, or as your entrepreneurial wings spread you may need more advanced options. You currently have the luxury of a compare and contrast situation. As always, education is key, so click a few Demos and crunch those numbers.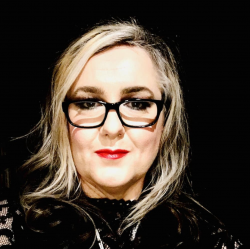 Latest posts by Lisa Comerford
(see all)