Full Disclosure.
Cade and I have freelanced for the same client in the past. His designs have made my words sing and it has always been a joy to work with him. When he resigned from freelancing last year (2022) to return to full-time work, the devastation was palpable (though we only wished him the best… grumble grumble😉.)
The client struggled to replace him and we all signed up for Canva! No shade, Canva is a phenomenal design tool (I can only claim the latter not the former.) It was a lean couple of months design-wise and then Cade popped up on our radar again. Corporate Australia was not for him… begging the question WHY?
Cade generously agreed to satiate my curiosity. I thought his first-hand account from post-lockdown corporate Australia would be relevant to all our freelance friends. I love stories from those who returned from the other side
Meet Cade
Cade Lucas Design – Making things look good since 2007!
Cade understands that to connect with an audience a design must POP! His approach to graphic design is fresh, clean, and colourful. He has his finger on the pulse of several disciplines including website design, social media, print design, posters, brochures, business cards, packaging, postcards, stationery, style guides, and signage. He has worked with a diverse range of brands, keeping him agile and ahead of the curve.
Check out Cade Lucas Design through our Freelance Directory.
Protagonist's Backstory
What attracted you to Graphic Design?
I had always liked graphic design starting from my teenage years. I just loved all the music magazines like Smash Hits, Countdown, and The Edge. I also used to love the comic drawings and designs in the monthly MAD magazine.
At school, I started playing around with cut-and-paste collages on my school book covers that my friends loved. They'd always ask me to do their school diary covers, so I'd take their diary home and a couple days later I'd hand it back with some design on it.
What was your first job?
My first untrained design job actually came out of a communications role I was performing at Foxtel, where I'd put out a weekly newsletter that would go out to over 2000 employees. I took the name of The Terminator movie and changed it slightly and called my newsletter "The Updaternator". Of course, I had Arnie's face on the mast, and I used to theme him up in photoshop with Bunny ears for Easter or a Santa hat for Christmas editions, etc. I thought it was pretty cool at the time.
After graduating from Shillington College of Design, I was made Graphic Designer in the Communications team at Foxtel. It was a seamless transition and I was very lucky to have that happen so instantly. I was then charged with all internal print and digital signage at our Melbourne head office. It was a great challenge and very exciting. I loved it.
How long were you in corporate Australia before transitioning to freelancing?
Overall I had a 15-year career at Foxtel. I spent a couple years on special projects learning the ropes before four years in communications and then another eight in a graphic design role. So a very long time with one company.
Why did you choose freelancing?
I started freelancing straight out of design school just for extra money while working full-time. After leaving Foxtel, I took a break from graphic design and pursued a Personal Training dream of mine. But design wouldn't let me leave it behind that easily, and I would get asked by friends and family to design something for them or someone they know. By word of mouth, my freelance business grew organically and before I knew it, I was 50/50 with personal training and design. Then the dreaded pandemic quickly ended my personal training when all gyms had to shut, so I just pivoted solely into designing.
Coke versus Pepsi challenge
Best aspect of corporate work?
While working at Foxtel I got to work with some amazing brands and meet some amazing stars of TV shows. I also made a lot of friends at work along the way. Plus there is always the security of a salary and all the benefits it brings. I also got to travel to Sydney for mentoring by other Foxtel designers who made all the motion graphics for on-air television. It was very exciting.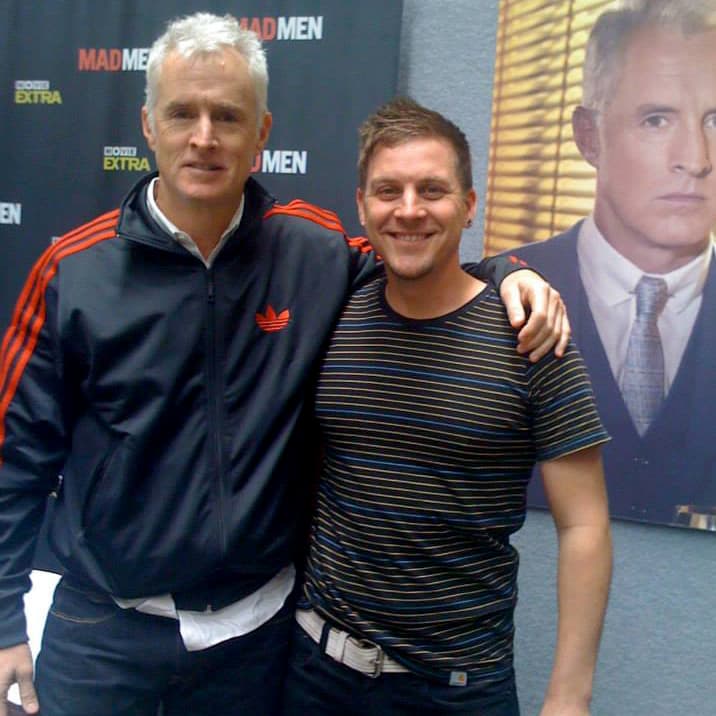 Biggest challenge of corporate work?
There were definitely some challenging times in such a large organisation such as; every time after a corporate restructure happened the reporting model changed and because of this, I felt like I had to justify my role to a brand new set of managers. Also, there were some managers and internal clients who had outrageous expectations from me, but they had no idea how designers work and what I needed to do my job. They also had the I "need it today" mentality and didn't understand that good design takes time. Unlike freelancing where I can say no to jobs that aren't a fit, I obviously had no choice as an in-house designer but to work with them and complete the design, no matter what it was.
Managers would also sometimes ask me to do personal designs for them, like photoshopping their children's faces on something for their school or birthdays. As a serious designer, it was quite demeaning.
Best aspect of freelancing?
So much to love. I love the mix of clients I get to work with and the variety of design work they bring. It keeps me thinking and trying new things. Plus seeing your designs in play and your client happy, makes me feel nice inside.
To quote a famous George Michael song, "FREEDOM!" Freedom is definitely one of the best aspects of freelancing. I can arrange my week how I like, start and finish when I want, and if I want to take in some sun and take my dogs for a walk, I can do just that.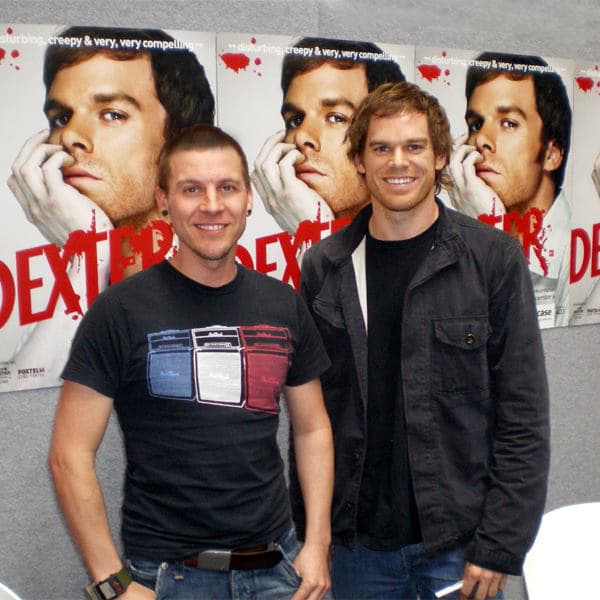 I'm not a fan of Mondays at all, so being able to make them be whatever I want them to be is another bonus. I certainly don't get those Sunday night blues, and that's a really nice thing.
I love working from home in my comfy office with my desk setup, my music, dim lights, and no distractions – other than my dogs wanting a treat or a shopping delivery turning up.
I also love being able to throw my laptop in the car, head south to see my family and friends, and work from whatever location I end up. It's so amazing. I'm also aiming to live a digital nomad life and hit Bali for a short while.
Biggest challenge of freelancing?
Constant sales, pitching, price negotiations, invoicing, and a regular income. Communicating the value of my service to those who haven't worked with me before. I'm a creative, I'm not a salesman or accountant.
Corporate Australia Post-Lockdown
Did the pandemic have a positive or negative impact on you as a freelancer?
I'd say positive. I kept on working and even got busier during the pandemic. So it kept the mind active during those lockdowns. Uggh.
What was the thought process behind returning to corporate?
I really wanted to have a guaranteed steady stream of income for a change. I thought the easiest way to do that was get a full-time role back in corporate life. I was really excited and based my expectations on my 15-year career at Foxtel (the good and the bad) and felt comfortable in that I was making a change for the better.
Did you give up all your freelance clients and how did they take it?
Yes, I did give up all my clients. The day I was told I got the job, I was asked to give up freelancing so I could focus on my full-time role. As I wanted work-life balance at the time, I was ok with that. All of my clients were very sad and I could also tell they were very nervous about where to go for their future design needs, but they understood the reason behind it and wished me all the best.
What kind of work were you doing?
The role was a mix of print and digital designs, starting with a catalogue, digital assets for social media and various internal communications.
What challenges did you face in corporate 2022?
In my view, I felt like the role was somewhat misrepresented to what was advertised and sold in the interview. Rather than a traditional in-house design role which I was expecting, it ended up being a mix of marketing, content creation, account management, and then lastly, design, all in one role. In that order.
From day one, I found the physical environment challenging. It was noisy, disruptive, and really really bright with fluorescent lighting. It was also mid-winter and very cold in the office. I missed my comfy home office and my dogs straight away.
Having to work for someone else was uncomfortable. The systems and processes felt unnatural to me and convoluted. I also had to work with a very limited style guide and I felt it restricted me creatively. I could tell that the span of work and the types of jobs were going to be an issue for me as I was very used to designing almost anything with multiple brands from multiple clients.
When did you know it wasn't going to work for you?
When the physical environment challenges became too much and when I realised the role was becoming more about the process of marketing and writing content rather than the creative process. I was confused that with an extensive portfolio behind me, I wasn't focusing on giving the best designs possible.
How did you communicate that to your boss?
After weeks of feeling uncomfortable and confused about what I actually should be doing, I woke up one morning and said this role was not for me. As I was working from home, I got the phone immediately and had a very open conversation with the manager and we agreed that I would finish out the week. It was like a huge weight lifted, but I was also really disappointed as I thought this was going to be my job for the next five or so years and I had planned on it working out financially.
What did you miss about being a freelancer?
Creating amazing designs. It's what I love to do, what I'm trained to do and what I have done for years. I really just wanted to create.
Were your freelance clients receptive to your return to freelancing?
Yes! I had some very happy clients that welcomed me back with open arms. I was hoping that would be the case but I really didn't know if they had moved on or not. So it was a very special moment.
What's the takeaway from this turnaround?
My advice to anyone thinking about going back to a corporate role is to think about it before you make that leap. If you do get as far as interviewing, ask a lot of questions. What will you be doing and what does a typical day look like? (Even though I did ask these questions.) Also, do not get too dazzled by the $$$. There is so much to give up for the sake of a salary.
For me, a full-time role back in the corporate world is not a fit and I'm so happy to be back home designing in my comfy office. My dogs are thanking me every day. 😁
You can't put a price on Freedom, right George?
So much of Cade's experiences ring true, with the most profound being his final point: don't get dazzled by the dollar. None of us live on oxygen but I do believe those genuinely attracted to freelancing, interpret the free as freedom. We value what we do, but we also understand the value of what we don't have to do. You can't put a price on freedom.
The corporate world really works for some – it does offer security and camaraderie but as Cade said (and I second that emotion) "design wouldn't let me leave it behind that easily."
Thanks so much for your time and wisdom Cade Lucas Designs. Oh, and I'm sending you a binder for a high school collage special!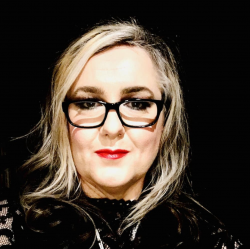 Latest posts by Lisa Comerford
(see all)